It's been over 5 months since various countries imposed lockdowns and restrictions on their citizens to ensure their safety during this pandemic. As a first, this came in as a shocker to various B2C brands as they have continuous customer engagements with their brand that makes them relevant and stay on top of their game. But soon, brands started getting very creative and there was a rise in the number of creative ads that were designed. Here, in this article, we will look at some of the brands that made the best use of the moment to market themselves.
#StayHome #StaySafe and #SocialDistancing Creative Campaigns
There were a lot of posters on Social Distancing and Stay Home over the last few months. Many of these ads made good use of the situation to get their names out in public. This not only boosted their brand awareness but also left a lasting impression on consumers mind.
#ArtOfQuarantine by for Ministry of Culture and Information Policy of Ukraine, Social Distancing Awareness by National Parks and Wildlife Service South Australia, #Playfortheworld by Nike and #Stayhome by Raketa Delivery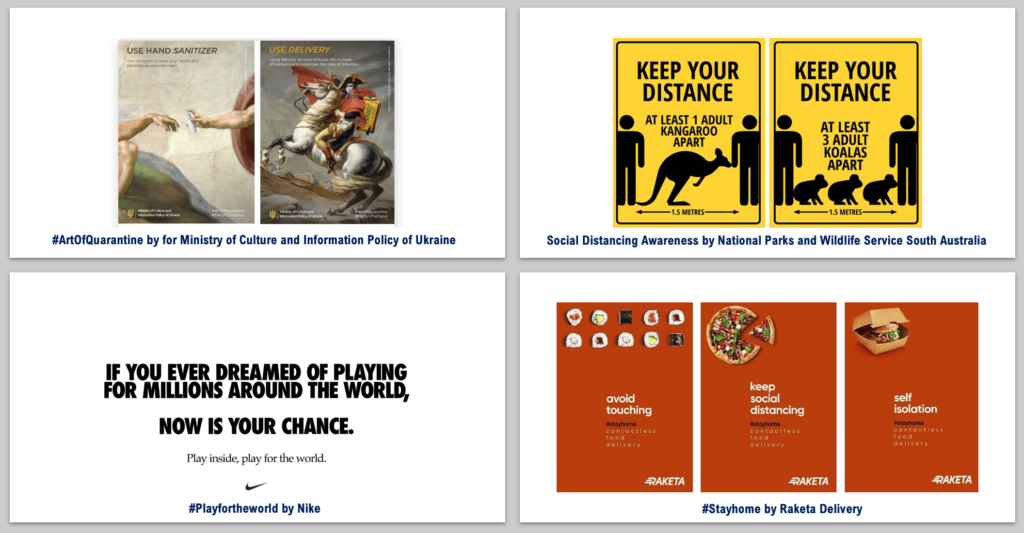 Discounts and Referral Marketing
A lot of brands out there are offering discounts, loyalty programs and rewards for referral marketing that is boosting their online sales. These campaigns are only for the pandemic situation and may not be launched again for a very long time. The competition for discounts and offers is at its peak currently and is the perfect time for shoppers to make the most.
Ted Baker's refer-a-friend copy emphasizes extended returns, Marks & Spencer's refer-a-friend campaign taps into a sense of togetherness, Mamas & Papas refer-a-friend campaign offers 15% off for NHS workers, Monica Vinader's refer-a-friend copy highlights its 100-day returns policy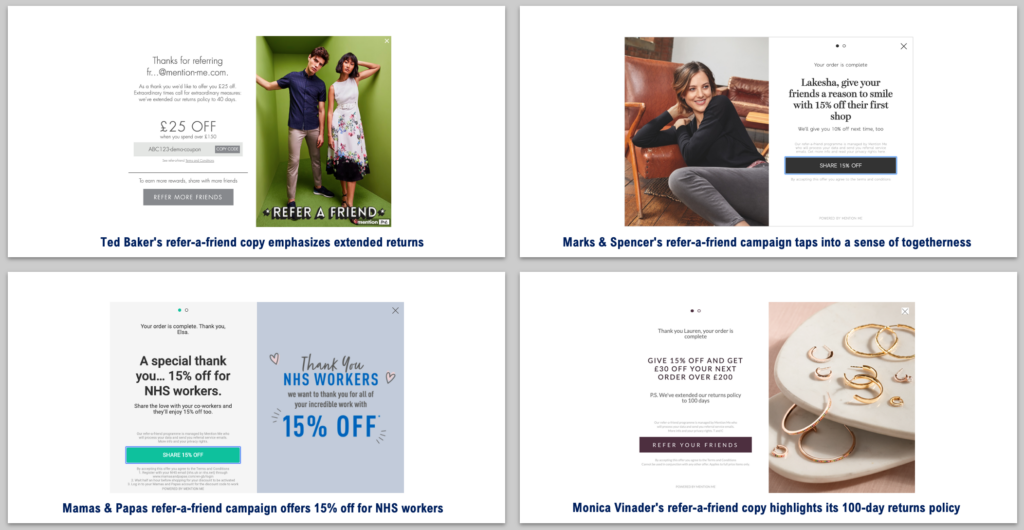 Free access to Paid Content/Members only Content
One of first strategies of moment marketing during the beginning of the pandemic was to give out content access to public which was earlier available only on membership or subscription model.
Apple TV Plus gave free access to its original television series.
HBO gave access to 9 original series, 20 movies, and 9 documentaries.
Harvard University launched a free online class Mechanical Ventilation for COVID-19 to provide medical professionals with an understanding of mechanical ventilation.
National Geographic offered a free homeschool hub with family-friendly educational content.
Nikon made its 10 classes of online photography free until the end of April.
The Covid-19 is surely a hard time for everyone; but businesses need to sustain. Consumers have not stopped spending; they are only spending cautiously. Effective marketing is part of surviving, now and in the future. With relevant offers, communication strategies and marketing tactics, keep your customers engaged now and they will sooner or later, come back to you for more.